Completing the Q&A Profile
Provide your TRIDENT (TRWIN) account username.
Enter this as username or trwin\username .
Do not append

@triumf.ca

.
Click on: 

My Questions and Answers Profile

Type in the characters presented in the CAPTCHA image.
This is not case sensitive.
Type in you TRIDENT account password.
This is case sensitive.
If you do not know your password
and have not set up the recovery profile, then:
  • open TRIUMF Helpdesk
  • login as guest (see the intructions on the helpdesk page)
  • submit a request to the TRWIN-Domain queue.
Don't forget to provide an email address for the response.
In the Q&A Profile page
select questions from the drop-down menus
provide answers an answer to each question you selected

IMPORTANT -

Record these answers somewhere safe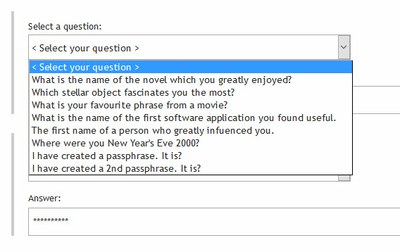 You will be required to choose three questions and supply answers.
They will be the challenge questions for a password reset.
An additional two questions need to be answered.
The IST Windows team may use them to verify your identity if you contect them by phone.